Selecting the CPU for a gaming computer can be a difficult task. Not only do you want to select parts that work well with modern games, but you also have to keep in mind that higher-end products while more expensive also give you a sense of longevity because they will definitely be able to run the latest games for the upcoming years.
With the release of Intel's latest generation, a heated topic has been the Intel Core I5 6600k vs I7 6700k gaming CPUs, both are fantastic choices, and we're going to put them to the test to see which is the best choice for your rig.
[amazon box="B012M8M7TY,B012M8LXQW" template="table"]
In a Hurry? Check our resume then:
Intel Core I5 6600K
Pros
Very cheap for the performance it provides.
The best option for people not looking to spend much money.
The best option for people who are on a budget, this way you can invest in a better GPU.
Great if you're not playing the latest games on Ultra @ 4K.
Cons
Not as good as the Intel Core I7 6700K.
Will not be able to run the latest games at Ultra 4K (Witcher 3 and such.)
Won't keep up with new games high requirements in the upcoming years.
Inferior overclocking capabilities.
Intel Core I7 6700K
The Good
The best option for people looking to get maximum performance.
If you're looking to play games at Ultra and 4K it's definitely the best option.
Future-proof CPU. You will be able to play any game at Ultra for the upcoming 3-5 years.
Overclocking capabilities are superior.
Not So Good
Not the best price / performance ratio, it's a bit expensive.
Our Opinion
At first glance, both CPUs looks to be very similar in specs. However, there is a couple key differences between the two processors. First is the clock speed. The I7 is roughly 15% faster than the I5, and if you have a very high end graphics card this could make a noticeable difference in the performance of your games. Often it is very easy to upgrade our graphics cards down the road, however as CPU architectures change not all motherboards are compatible with the latest CPUs. Because of this, it may be a wise choice to get as much performance as you can right off the bat.
The next major difference you will notice is the number of threads. Even though these are both quad core CPUs, the I7 has a total of 8 threads which means it is much more adept at handling many demanding processes at once without locking up. Historically, people have viewed CPUs with a large number of cores and hyper threading to be overkill for gaming, as modern games are not usually optimized for multi-core use as they could be.
However, with the release of DX12, gaming companies are clearly getting better at utilizing these features and this could very easily be a vital feature for future games. Let's consider CPU value for the money you are spending. Despite the modest increase in speed you would get by purchasing the I7, it comes at nearly a 135$ difference between the I5 and the Intel Core I7 6700K.
There is simply no debate here, the Intel Core I5 6600k offers unbeatable power for the money and is a very economical purchase.
Do you plan to overclock your CPU? Historically I7 processors are often much more effective at handling the high voltages and temperatures that users who overclock their computers subject them to, therefore if you're willing to overclock your CPU and aren't looking to upgrade for the next 4-5 years then maybe you should go for the Intel Core I7 6700K since the I7's are remarkably better at overclocking, therefore the performance boost would also be better than when overclocking an I5, this also means that in terms of longevity the I7 with a good overclock will last a lot longer than the I5 (in terms of keeping up with the gaming demands over the years).
Gaming FPS Benchmark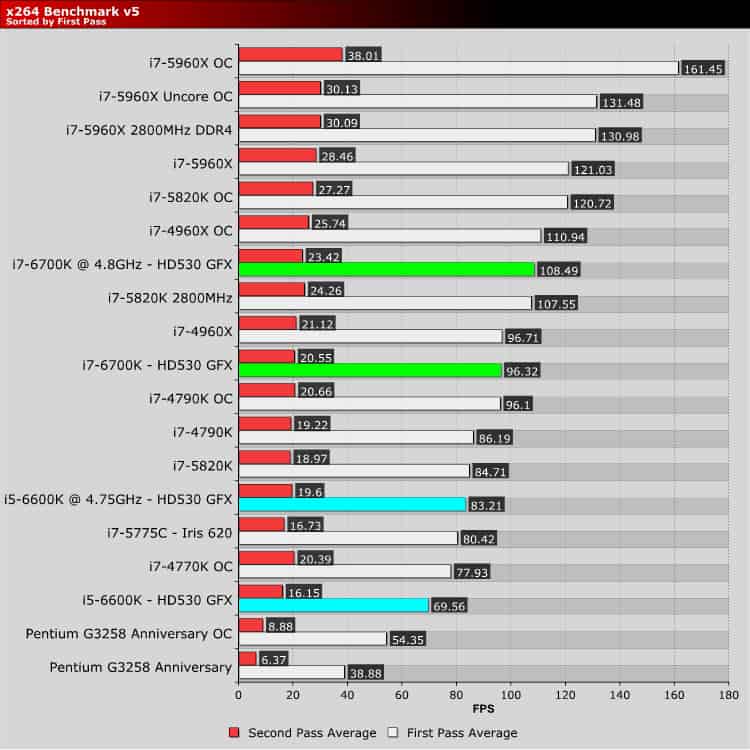 As the previous image shows the benchmark results between both CPU's Overclocked and non-overclocked, one thing to keep in mind is that we used a weak graphics card as it will be easier to gauge the FPS difference of the CPUs, as you can see the I7 always outperforms the I5  when under the same conditions, however, the I5 Overclocked outperforms the I7 non overclocked.
Just as you can see the FPS difference isn't that much between both CPUs, if you have a very good graphics card then the I5 Overclocked will most likely be enough for you, however, if you don't have a very strong graphics card then the I7 Overclocked Extra FPS may help you out a lot.
Verdict Based on Results
The I5 is powerful enough that, when coupled with the right hardware, will play any modern game effectively. For any user who is looking to build an economical gaming system and upgrade when necessary, this is our clear choice for them. For the users who game competitively, the extra performance gained with the I7 could give you a serious advantage.
If you are going to be pairing your CPU with high-end parts and want to design a system that is future proof and will play all the latest games for many years to come, the powerful features of the I7 CPU that are not often taken advantage of by modern games will become a must-have for games of the future.
The Best 6 i5 6600k Processors
[amazon bestseller="i5 6600k Processor" items = "6"]
The Best 5 i7 6700k Processors
[amazon bestseller="i7 6700k Processor" items = "5"]
Important Things To Remember
Although we're doing a comparison between these 2 CPUs, we would like you to remember that there's another vital part to this, we've included overclocking performance as an important subject in this comparison, for doing proper overclocks you should always get a fitting motherboard, we recommend you to check our article on the best motherboard for I5 6600K or the best motherboard for I7 6700K if the I7 was your CPU of choice after our comparison, if you're going to purchase the unlocked version of either processor then make sure you also have the budget to purchase a decent motherboard that can support it, else it being unlocked will go to waste.